Last of 17 Retired B-1s Sent to Boneyard as Air Force Preps for B-21s
Military.com | By Stephen Losey 24 Sep 2021
https://www.military.com/daily-news/2021/09/24/last-of-17-retired-b-1s-sent-boneyard-air-force-preps-b-21s.html
(Interjection by Don Chapin: GOOD RIDDANCE!! While the F-35 program is plagued by "diversifying the supply line," the B-1 was plagued by "questionable engineering" for maintainability from the git-go. This is acknowledged in this article, though quite obliquely. My 'signature' program before I retired from the USAF was a $3.2M effort to redesign a B-1 par – another "grey" program. Rockwell sent a five-engineer team to my bidder's conference but repeatedly said "We'll get back to you on that question." They never did as it was obvious they were WAY over their collective heads. The ONE engineer sent from McDonnell-Douglas, Long Beach, Jim Lawrence (deceased), not only answered all questions but introduced fresh ideas of his own at that conference. His team authored the document at my Aircraft Transparency Design Guide website, at https://aircraftdesignguide.com, improving the design concepts of aircraft transparencies by at least 50 years at the time)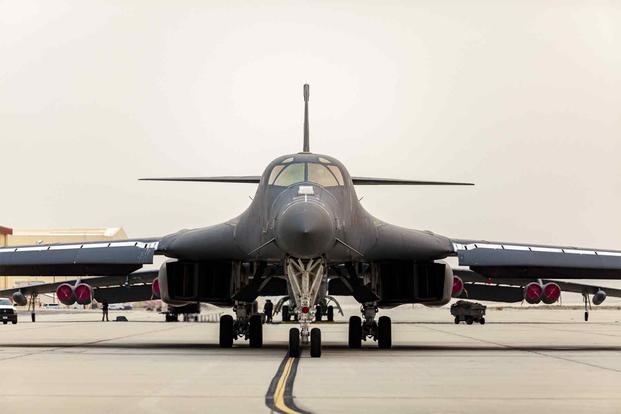 A B-1B Lancer taxis at Edwards Air Force Base, California, Sept. 23, 2021 for its final flight. The aircraft is the last of 17 Lancers previously identified for divestiture by Air Force Global Strike Command. (Air Force photo by Clay Cupit)
The Air Force has sent the last of a batch of 17 of its oldest and most worn-out B-1B Lancer bombers to the boneyard.
The final plane flew out of Edwards Air Force Base, California, on Thursday, to the "boneyard" at Davis-Monthan Air Force Base, Arizona, which houses the vast majority of retired Air Force aircraft. The first B-1 to be retired in this batch flew to the boneyard in February.
The divestment of roughly one-quarter of the service's B-1s leaves it with 45 in its inventory — a major step in the Air Force's effort to prepare to bring the B-21 Raider long-range strike bomber, which is still under development, into service.
The B-1B fleet, which the Air Force started flying in the 1980s, worked particularly hard during the wars of the last two decades, and continued maintenance woes meant it saw some of the greatest issues with availability for operations in the service.
Now-retired Gen. Timothy Ray, when he was serving as head of Air Force Global Strike Command, told reporters in 2019 that the B-1 had been "overextended" in repeated deployments to the Middle East. Later that year, Gen. John Hyten, now the vice chairman of the Joint Chiefs of Staff, told lawmakers that just six of the 62 B-1s then in the fleet were fully able to fly missions.
Bringing those 17 B-1s back into a mission-capable status until the new B-21 comes online would cost anywhere from $10 million to $30 million per plane, according to the service. Retiring them instead allows Air Force Global Strike Command to concentrate its maintenance resources on keeping the remaining bomber fleet working.
The Air Force plans to retire all its B-1 and B-2 Spirit bombers by the 2030s, leaving it with a bomber fleet consisting of B-21s and rebuilt B-52 Stratofortresses with upgraded engines.
Air Force Secretary Frank Kendall said Monday that manufacturer Northrop Grumman is now constructing five test B-21s. The first B-21 is expected to have its first test flight next year, and the service could begin fielding it later this decade.
Thirteen of the batch of 17 B-1s are at the Davis-Monthan boneyard, where they will be kept in good enough shape that their parts can be cannibalized to repair other bombers.
The other four retired B-1s were divided between Edwards, where one will be a tester aircraft on the ground; Tinker Air Force Base, Oklahoma, where one will serve as a prototype for testing structural repairs; the National Institute for Aviation Research in Wichita, Kansas, where one will be digitally mapped; and the museum at Barksdale Air Force Base, Louisiana, where one will be put on display.
The Air Force previously retired 33 B-1s in 2003.
— Stephen Losey can be reached at stephen.losey@military.com. Follow him on Twitter @StephenLosey.